How to choose the correct skid steer for forestry applications
Posted on

October 05, 2020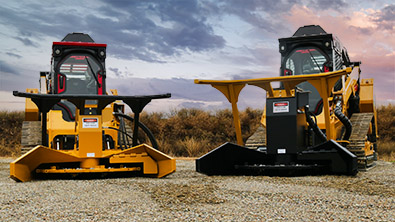 Today's skid steers are rugged, high-powered. Used for heavy-duty construction, landscaping, land clearing, and fire prevention. Thought of as the Swiss Army Knife of the industry, the skid steer loaders are designed to minimize time and effort and maximize productivity thanks to the flexibility and range of products. Skid Steer and compact track loaders can be safe, effective land clearing tools. If they are properly matched with the attachment and equipped with the correct guarding to keep you safe.
Forestry and mulching attachments place specific demands on their equipment. When pairing, a loader and attachment for land clearing applications, you need to ensure the loader and attachment are not only compatible but equipped to maximize the safety of the operator and critical machine components.
Understanding Hydraulic Flows and the difference between Standard Flow and High Flow and Auxiliary Hydraulics?
The heart of a skid steer is the diesel engine. This diesel power plant pumps energy to all the machine's many wheels, tracks, loader arms, attachments, and other functions. In the belly of the beast, this diesel engine transmits its energy to a set of hydraulic pumps bolted directly to the output of the engine. A total of up to four hydraulic pumps hooked up to the engine power the loader arms, hydraulic drive motors, auxiliary hydraulic circuits, and the unit's attachments.
Most skid steers on the market utilize two hydraulic pumps to achieve the optimum balance between driving and lift arm and attachment functions. These are generally referred to as the main pump and the auxiliary pump. The main pump provides power to hydraulic drive motors, which in turn provides power to the axles and wheels. The auxiliary pump provides direct oil flow to the lift arm and hydraulic attachment operation.
In most types of pumps, the flow rate is determined by the pump's speed (which is equal to the speed of the engine) and its displacement (the volume of the cylinders in the pump). The faster a given pump spins, the higher the flow rate. The pressure is determined by the tasks the operator is performing, the attachment he or she is using and the flow system of the skid steer or track loader.
In simple terms, an attachment that uses hydraulic power requires a fluid medium that is charged by a hydraulic pump. The pump pressurizes hydraulic fluid using power from the engine. The fluid is directed toward an attachment through a control valve. Energy that is created in the system is used to the fullest extend of the capabilities of the attachment, with remaining fluid returning to the hydraulic tank. As a generalization, flow and pressure are equally important. Flow creates speed, while pressure creates work.
Standard-flow auxiliary hydraulics generally range from 10 gallons per minute (gpm) on smaller skid steers to 32 gpm on larger models. High-flow auxiliary hydraulics typically range from 31 to 41 gpm, providing more flow to get work done with bigger, more complex implements.
While standard flow attachments are available for machines, they are not equipped with high flow circuits, it is STRONGLY recommended to outfit high flow machines with matching attachments.
Another consideration is auxiliary hydraulic - which is what does the heavy lifting. Some skid-steers might have less flow than others, but operate at greater pressure, which will ultimately determine hydraulic horsepower.
Most current production machines with engines of 70-100hp, and equipped with high flow circuits, will have the appropriate hydraulic horsepower for mulching.
Torque – Torque is often misunderstood and under-estimated in importance, which is a serious error, as torque is what ultimately does the work. All the horsepower in the world means nothing if you do not have the torque to back it up. Always choose high torque machines.

Lift Type – Skid-steers have either vertical or radial lifts. If you will be typically working at eye level or above, vertical lift is preferred; however, if you will be working below eye level primarily, radial lift machines may be better suited to your application. Today, it is mostly a matter of preference. Make sure you know the lifting capabilities of the skid-steer lift system. It must be capable of lifting and operating at whatever lift height is required for the desired attachment.

Hydraulic Requirements – The hydraulic requirements of the skid-steer machine and its mulching attachment must be carefully matched for optimum performance, which is a complicated balance of hydraulic horsepower and torque. This is the most important consideration when matching a skid-steer to a mulching attachment.

Undercarriage Type – Skid-steers are either equipped with wheels or tracks, and both styles have their strength and weaknesses. Ground conditions must be considered carefully before selecting a style. In the mulching industry, tracked machines have become the popular platform due to lower ground pressure, traction, and stability on slopes and inclines. Many skid-steer manufacturers offer forestry protection packages for mulching operations as well, dramatically increasing the safety of the machine and its operator.
Mulching Attachments
It is critical to match the mulching attachment to the machine's capabilities to ensure effective and efficient operation.
Cutting Width - Mulching attachments typically come in cutting widths ranging from 40" - 84", with 58" being the most common size. When pairing the attachment to the skid-steer, make sure the machine can effectively lift and manage the weight of the attachment, especially at the anticipated operating height. Some brands offer counterweights and other options to help with balance if necessary.

Safety Features – Many attachments come with various safety features, guards, etc., for protection of the operator and other individuals nearby the work site. Safety features like hydraulic doors and chain guards will help deflect debris to the ground where it will cause no harm. Polycarbonate doors on a skid-steer machine will protect the operator from high-speed airborne debris.

Performance Features – When selecting a mulching attachment, important consideration must be given to the intended use and the different types of terrain and material that will be faced. If used in a rocky or unfriendly soil environment, a unit designed to be in contact with these materials may be better suited than a unit expressly designed to quickly cut, that is likely used at a higher elevation, and would not be in contact with rock or soil. Carefully weigh the pros and cons of each design and match them to your application for best results.
Skid-steers provide flexibility for a job site that cannot be matched by many larger, more cumbersome machines. Properly matching the mulching attachment to the skid-steer, and then to the job environment, will pay large bonuses to any mulching professional.
Advanced Forest Equipment is a manufacturer of professional grade forestry disc mulcher attachments for excavators and skid steers. Headquartered in the forests of Idaho, U.S.A, Advanced Forest Equipment is unique among manufacturers in that we perform extensive field testing on every product. To meet our quality expectations, we use several testing methods on each mulcher attachment before it leaves our facilities. Call us today to see which contractor grade disc mulcher best fits your application needs.